Merry Christmas !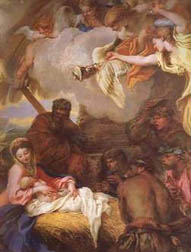 As we celebrate the birth of Christ, I invite you to reflect on who He truly is:
"For unto us a child is born, unto us a son is given: and the government shall be upon his shoulder: and his name shall be called Wonderful Counselor, The mighty God, The everlasting Father, The Prince of Peace. Of the increase of his government and peace there shall be no end, upon the throne of David, and upon his kingdom, to order it, and to establish it with judgement and with justice from henceforth even forever." ~ Isaiah 9:6-7

"And lo, the angel of the Lord came upon them, and the glory of the Lord shone round about them: and they were sore afraid. And the angel of the Lord said unto them, 'Fear not: for, behold, I bring you good tidings of great joy, which shall be to all people. For unto you is born this day in the city of David a Savior, which is Christ the Lord. And this shall be a sign unto you; Ye shall find the babe wrapped in swaddling clothes, lying in a manger.' And suddenly there was with the angel a multitude of heavenly host praising God, and saying, 'Glory to God in the highest, and on earth peace, good will toward men.'" ~ Luke 2:9-14

The names of Jesus in the Bible:

Messiah
Alpha and Omega
Bright Morning Star
The Way, The Truth, & The Life
King of Kings
Savior
Word of Life
I AM
Good Shepherd
Resurrection and Life
Lion of the Tribe of Judah
Son of Righteousness
Lamb of God
Light of the World
Head of the Church
Lord God Almighty
Bread of Life
Son of the Most High
Son of Man
Son of David
Redeemer
Christ
Rabbi
the Amen
Author of Life
Chief Cornerstone
Faithful Witness
Great Physician
Lord of Lords
Emmanuel

My prayer for you is borrowed from Paul:
"I pray that out of His glorious riches He may strengthen you with power through His Holy Spirit in your inner being, so that Christ may dwell in your heart, through faith. And I pray that you, being rooted and established in love, may have power, together with all the saints, to grasp how wide and long and high and deep is the love of Christ, and to know this love that surpasses knowledge - that you may be filled to the measure of all the fullness of God." ~ Ephesians 3:16-19
May you have a joyous and blessed Christmas!