My Story
My name is Mary, and I am a breast cancer survivor. I am sharing my story in the hope that it will help some of you. I was diagnosed in the Spring of 1996 at the age of 38, which turned our whole year upside down. I had no risk factors or family history of breast cancer. I have been married to my wonderful husband for thirty-six years and am the mother of two children - a son, who is an Electrical Engineer, and a daughter, who is a Registered Nurse. I have a Bachelor of Science in Nursing degree, with a working background in Medical/Surgical/Oncology. My hobbies include reading, volunteer work, boating, biking, and photography. As you can probably also guess, I love teddy bears!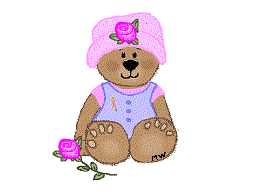 I first found a lump in the Spring of 1996 on the outer edge of my right breast. It did NOT show up on the mammogram or the sonogram, but was palpable - it felt like a small pea. My doctors and I believed it was fibrocystic tissue and were not too worried, but a biopsy was scheduled. I opted to have the lump removed instead of a needle biopsy, because it was also tender. (I know, everyone tells you that cancer doesn't hurt. Well, this is NOT true.) We were so sure it would be 'nothing' that my husband didn't come with me to the appointment, so I faced the news alone. The biopsy results were that it was an infiltrating ductal carcinoma. The actual tumor was only 0.5cm, but was encapsulated in fibrous tissue. It was both estrogen and progesterone receptor positive. I was completely speechless when my doctor told me this news (and felt like I'd been hit with a sledgehammer!). But I had to pull my thoughts together so that I could intelligently discuss my options. My doctor gave me some time to collect myself; then we discussed treatment plans. I was told I had the choice of a mastectomy or a lumpectomy with radiation therapy, and if the nodes were positive, I'd need chemotherapy, too. Since the tumor was so small and the outcome is the same with either procedure, I opted for the lumpectomy with radiation therapy. I then embarked on a journey to learn as much as I could about breast cancer, particularly of the type that I had. After the lumpectomy, during which they also removed eight lymph nodes, I received the further news that it was in two of the lymph nodes. (This made it a Stage II.) For whatever reason, this news did not upset me as much as the initial diagnosis did. (I guess I already knew deep down that it would be there.)
I then had Liver, Lung, and Bone Scans, to rule out metastasis (and thankfully, I was clear), and a MUGA scan to evaluate my heart function before starting chemotherapy. I also had a Groshong catheter surgically inserted to facilitate blood drawing and administering chemo. (I highly recommend getting either the Groshong or a port inserted if you are having chemo. - it saves your veins from getting stuck with needles all the time, makes drawing blood much easier, and makes the whole process painless.) The treatment regimen started right after that. We opted for the most aggressive regimen since I was so young. I received six months of chemotherapy (adriamycin, 5FU, and cytoxin IV over 6 hours, every 3 to 4 weeks, depending on my blood counts). I understand most people can tolerate this fairly well, continuing to work, etc. I guess I was the exception to every rule, as I got so sick from the first treatment that I had to be hospitalized. After adjusting my medications for nausea (Zofran worked the best for me) and limiting the amount and type of food I ate on chemo. days, I did better with the subsequent treatments. (Everyone's taste changes during chemo., so you have to experiment a little and see what foods work for you.... I found that blander and comfort foods were better. Chicken Pot Pie saved my life!) I began to walk 3 miles, 4 days per week. This helped improve my stamina. My friend and neighbor, Barb, was faithfully waiting for me every morning to make sure I walked. (You hold a special place in my heart, Barb!) I also had to receive Neupogen shots periodically to boost my blood counts. (Neupogen caused bone and joint pain for about a week after each shot.)
I cut my long hair short right after the first chemo. in anticipation of losing it all, which I did in about 3 weeks. It fell out in handfuls, in the shower. One of my worst moments... I had a good cry, then dried off, shaved the rest of my patchy hair off, and started wearing my wig. (I had purchased a wig (synthetic) and some scarves ahead of time and was very glad I had them.) I wore the wig when I went out and wore scarves or bandanas around the house. (A good sense of humor also helps tremendously when you are bald - you'll be amazed at how quickly you can get ready to go somewhere!)

After the six months of chemo., I had six weeks of daily radiation therapy. (I was tatooed with 4 little dots beforehand, so they could consistently treat the right spot.) The only side effect I had from that was a little fatigue. It was a piece of cake compared to the chemotherapy. My hair even started to grow back in at that time. (My normally straight as a board hair grew in very curly, initially, and was darker than it used to be. But after about a year and a half, it was mostly back to normal.) The only residual effect I have from the radiation is some soreness/tenderness in that breast and occasional muscle cramping.
My family, friends, and our church family were a wonderful support throughout the whole experience. My husband took a day off of work every "chemo. day" and sat with me throughout the 6 hr. infusion. Friends and family brought dinners every "chemo. week", which was a tremendous help to us. They also took turns helping us with child care. My parents came and cleaned the house for me regularly. Knowing that people were praying for me kept my spirits up, and gave me strength for the journey. God hears our prayers. I can't say that I know I am cured forever, but I have passed the ten year point of being cancer free, and it's a great feeling. God gave me the strength, guidance, and peace of mind to get through it all. With all of the tests, treatments, and doctor's appointments, I felt like I had lost a whole year of my life. But my faith has continued to give me peace.
Because my cancer was estrogen positive, I took Tamoxifen daily for 5 1/2 years. The only side effect I had from it was hot flashes and foot/toe cramps. (I should also mention that I had a hysterectomy with ovaries removed in 1998 - because of fibroids.) I am NOT allowed to take any types of hormone replacement therapy, or anything that causes or mimics hormonal activity. I took Femara for two years - a newer estrogen production blocker for post-menopausal women. The latest studies have shown that Femara prevents recurrence for a longer period of time after Tamoxifen therapy is completed. Femara can cause bone loss, so if you take it make sure you get regular bone density scans. I stopped taking Femara after 2 years because I was having too much joint/muscle/bone pain (my Oncologist supported my decision.)
I also feel very fortunate to have found wonderful doctors during this time. My Surgeon and Oncologist were so supportive, and were very open with information for me. Their nursing staffs were incredibly caring, which makes a big difference when you're undergoing treatment. If you are facing breast cancer (or any type of cancer), find a doctor who not only knows his stuff, but who will LISTEN to YOU, too.
***It is very important to do breast self exams regularly and if you find a lump that you get it biopsied! Unless the doctor is sure that it is a benign cyst, insist on a biopsy. My doctor suggested a biopsy right away, but some doctors want to "wait and see". Don't accept this! I would probably not be here today if I had ignored the lump.***

I'd also like to mention that my children were only 5 and 9 years old when I was undergoing treatment. I had a talk with both of their teachers about my cancer and what I was going through. This helped their teachers to be more effective with my children, understanding what they were going through at home. I had very little energy during my chemo. weeks, and could not be there for them like I normally would (playing, helping with homework, etc.) I explained my cancer and the treatment and its effects to both my kids on their level. My 5 yr. old handled it all very well, and it didn't seem to affect her that much. My 9 yr. old, however, was very angry with me, and not understanding at all. I believe he was afraid, and his anger was his way of expressing that. We all made it through, and he is now a wonderful and thoughtful adult. Sometimes both of my children will bring up the cancer and ask questions, and it's good to be able to talk to them about it.
I found throughout this journey that the best way to take care of yourself is to eat a healthy, balanced diet (lots of fresh vegetables, fruits, and if you eat grains, only whole grains, and much less meat, dairy, sweets, and processed foods). We eat a lot of seafood and organic veggies and fruits. I also take a calcium supplement (1500mg with Vit. D daily), along with a good multi-vitamin. I am trying to maintain a moderate program of regular exercise and light weight lifting. I have felt so much better when I stick to these changes.
I hope that by sharing my story, it has helped you in some way. Please visit my "Links" page for cancer information sites and more.

"To awaken each morning with a smile brightening my face; to approach my work with a clean mind; to hold ever before me, the Ultimate Purpose toward which I am working; to meet men and women with laughter on my lips and love in my heart; to be gentle, kind, and courteous through all the hours; to approach the night with weariness that ever woos sleep and the joy that comes from work well done - - this is how I desire to waste wisely my days." - Dekker